The fun ski hut at the Altenmarkt base station, part of the Radstadt-Altenmarkt ski area!
In winter, the Arlhof Hut offers a cosy restaurant, umbrella bar and sun terrace with good food, fine drinks and cool Après-Ski! The ski hut is ideally located at the Altenmarkt Hochbifang gondola, your gateway into the Radstadt-Altenmarkt ski region, part of Salzburger Sportworld.
Whether it is the skiers that can ski right to the hut, winter hikers enjoying a welcome break here after they walked up or came with the Altenmarkt-Zauchensee ski bus or those who whizzed down the Altenmarkt toboggan run and took the few steps to the Arlhof Hut – everyone enjoys a culinary break in the restaurant or
a "hat" meal in the evening or the après-ski in the umbrella bar, the Arlhof Lounge.
During the winter season, every Saturday has Live Music from 3pm in the Arlhof Lounge. All other event dates can be found on our Facebook page
In summer, the Arlhof Hut can be booked exclusively for private celebrations and weddings.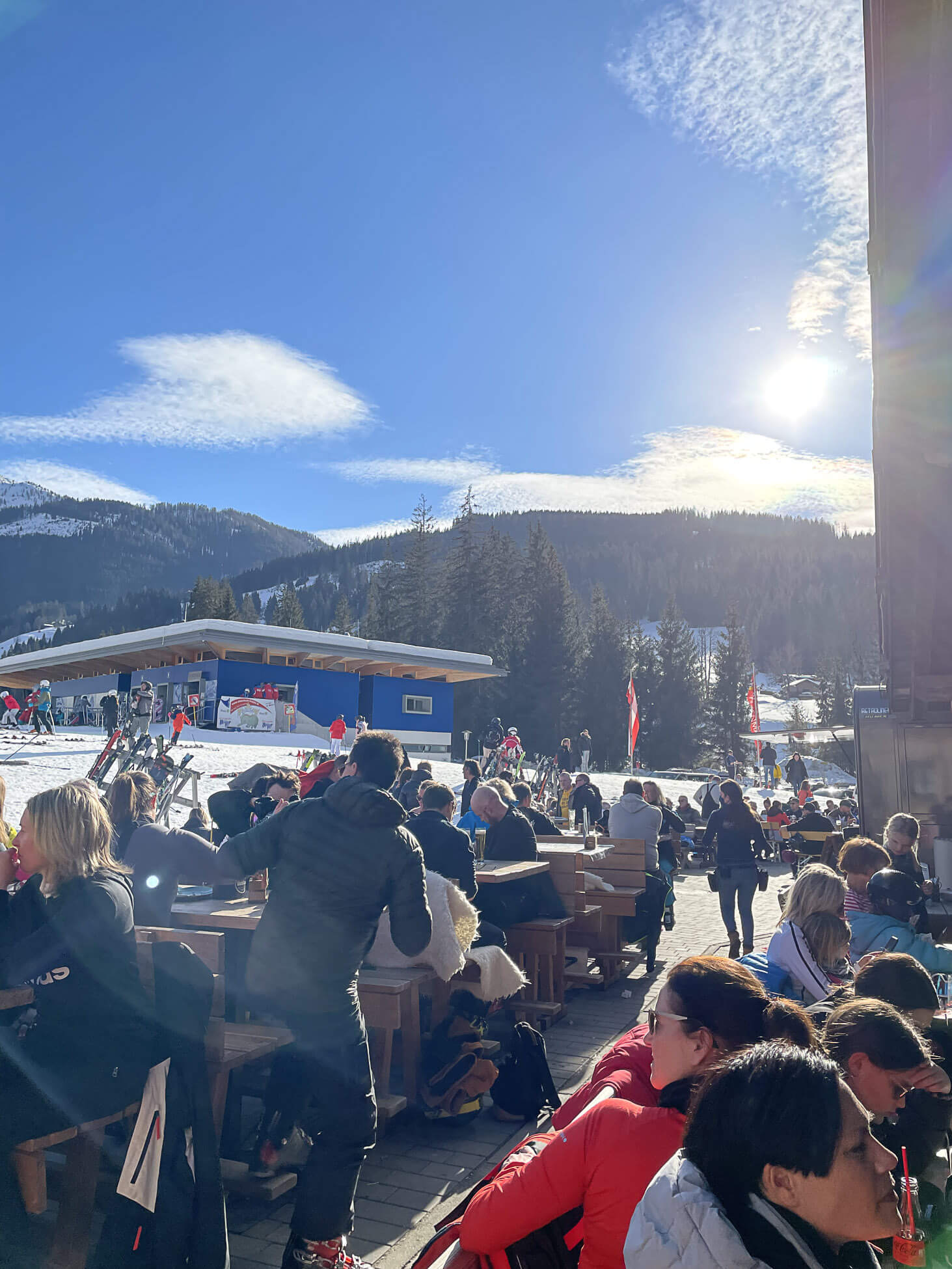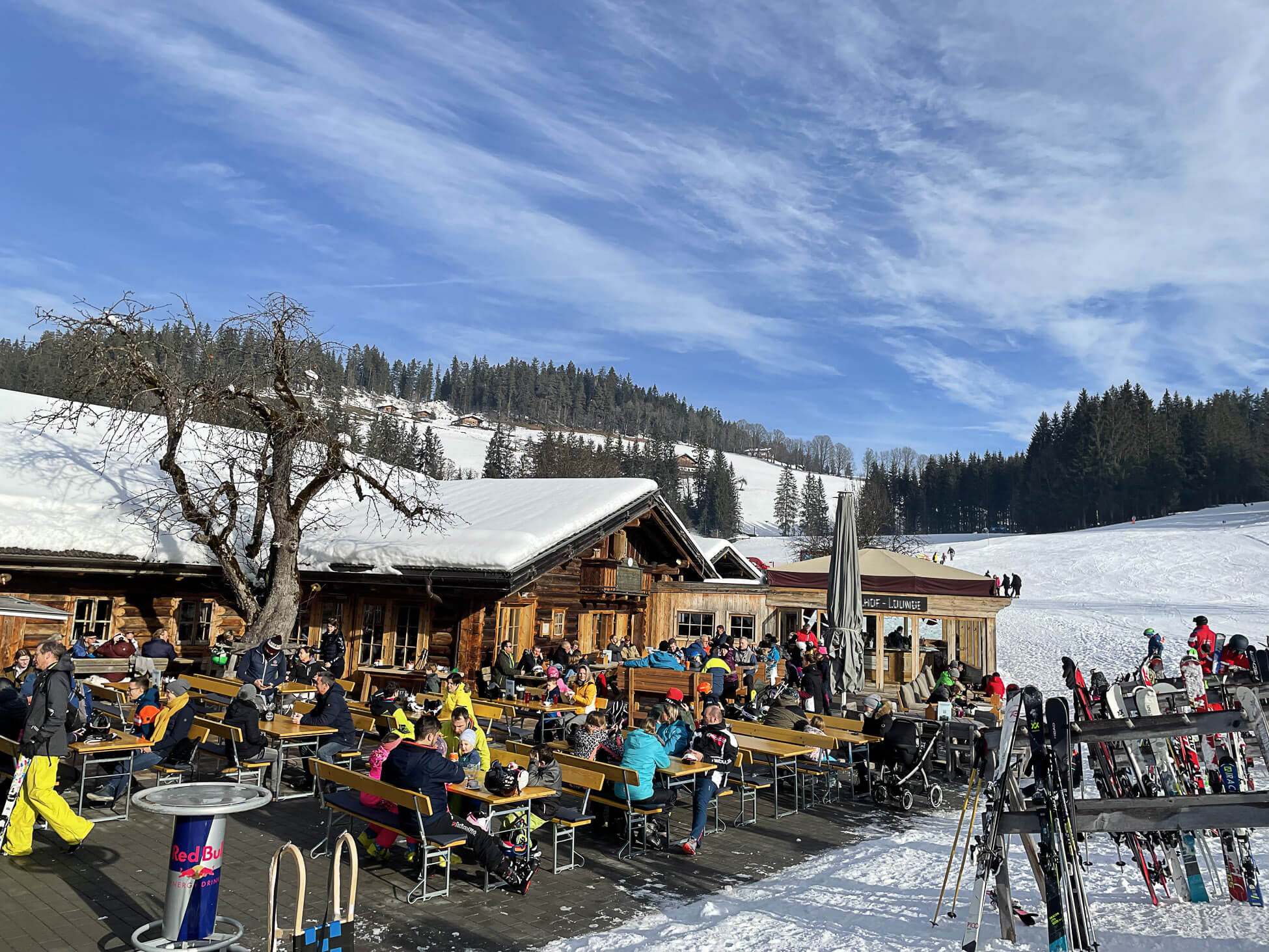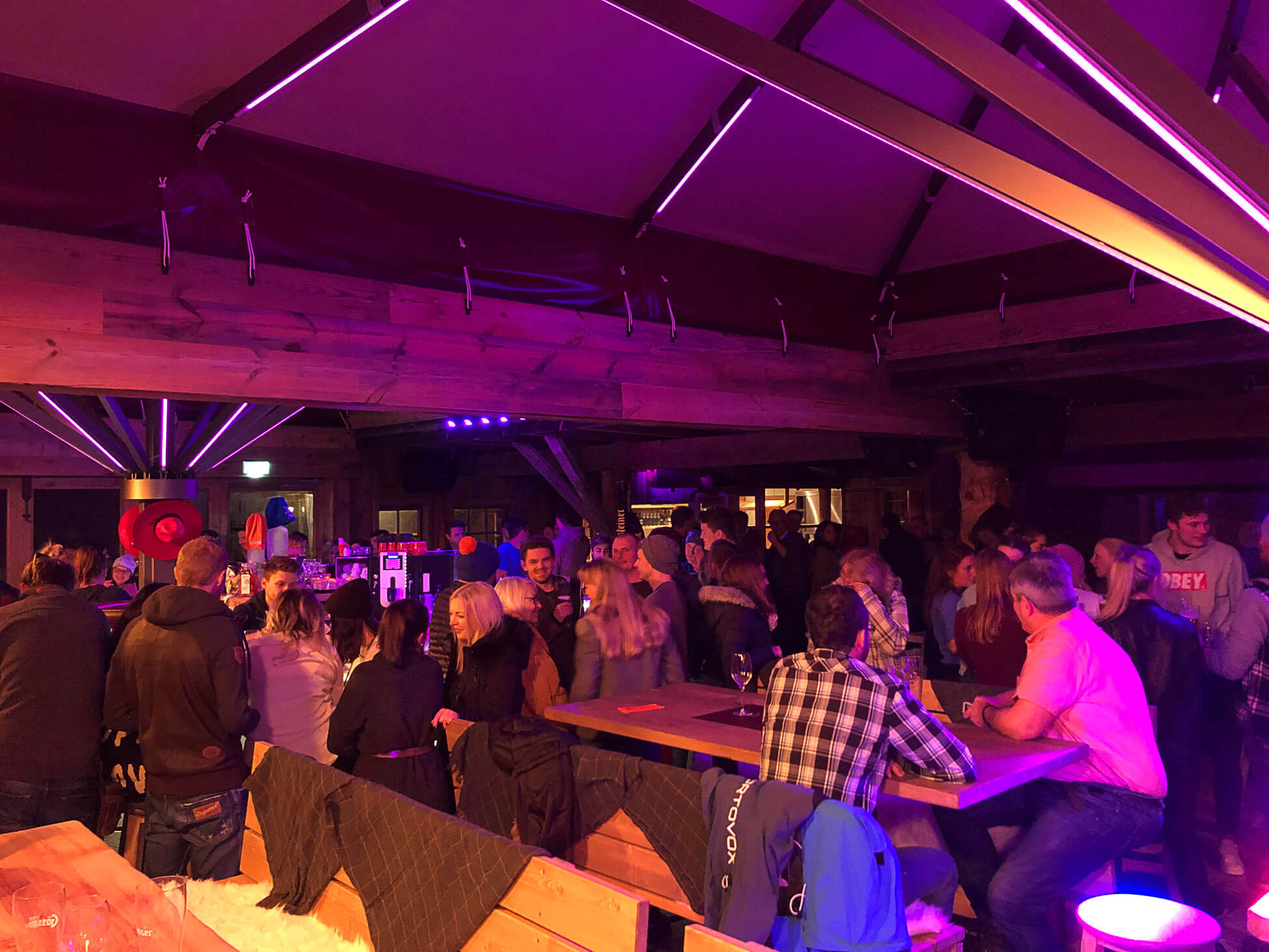 Whether in the rustic decor of the original hut or on our spacious sun terrace, the Arlhof Hut kitchen offers a great range of food during the day. In addition to traditional hut food, you will find Salzburg traditional dishes, classic Austrian favourites and children's meals, as well as salads & bowls,
Thai curry and spinach dumplings on the menu. Burgers, tarte flambé, pizza and pinsa complete the offer. From 3pm, the atmosphere in the Arlhof lounge umbrella bar, really gets going with après-ski.
Wir haben eine unglaublich schöne Hochzeit in der Arlhofhütte feiern dürfen. Schon die Planung war super unkompliziert, es wurde alles individuell auf uns und unsere Wünsche abgestimmt. Die Arlhofhütte ist unbeschreiblich schön: sehr urig, gemütlich und schick und eignet sich sehr gut für Trauungen vor Ort. Gerhard und sein Team machten alles möglich, das ganze Hochzeitsfest lief einfach perfekt: ein Sektempfang auf der schönen Terasse, das extrem leckere Hochzeitsmenü in der festlich gedeckten Hütte und exzellentem Service. Anschließend eine unvergessliche Party mit DJ Stoffei. Die Hütte hat alles zu bieten und ein unfassbar sympathisches und engagiertes Team. Lieber Gerhard, liebes Arlhofhütte-Team, ihr habt unsere absolute Traumhochzeit auf die Beine gestellt. Mit ganz viel Herz, Detail, Engagement und Freude. Vielen lieben Dank für alles, wir freuen uns jetzt schon auf ein Wiedersehen. Andrea & Nicole
Alina Walter (Freie Rednerin)
25. April, 2023
Romantische Almhütte eignet sich perfekt für eine freie Trauung - Draußen vor der Hütte auf Kies oder auch in der Wiese mit gewaltigem Bergpanorama wird deine freie Trauung bestimmt unvergesslich :) ich war begeistert vom freundlichen und zuvorkommenden Personal 💫
Wunderschöne Lage bei der Talstation der Gondelbahn. Herausragend freundliche Bedienung👍👍😆unter Tags beim Wintersport sowie am Abend beim "Hutessen". Vierbeiner werden hier auch gern gesehen 🐾🐾🐕
Sasja Ajsas
24. Februar, 2023
Leuk apres ski, maar de muziek kan wat mij betreft wel wat zachter. Zou fijn zijn als er ook een gedeelte is waar de muziek op normaal volume staat.
Evening restaurant at the Arlhof Hut
Evening meals and speciality hut dishes.  Going out for dinner in Altenmarkt and looking to enjoy an authentic rustic hut atmosphere?
We love to welcome you in the evenings with our culinary delights as we are just 5 minutes' drive from the town centre, there is something for every taste – Kasnockn, Schnitzel, Arlhof skewers, Rib Eye Steak, Surf & Turf or Char fillet. There is also a large selection of pizzas and pinsas – to eat on site or to take away.
And for all those who want to experience something very special, we offer a culinary rarity:
Our speciality – the Hat
Bonfire feeling right on your dinner table!
The Hat, or the Tatar's hat, is a culinary Highlight for social gatherings and for every occasion. And this is how it works: Fresh salad is served as a starter. Then a metal hat is placed in the middle of the table. The brim of the hat is filled with fresh beef soup and vegetables. Now everyone can put the prepared meat,
the fish or, as a vegetarian option, the tofu on the hot hat. There are also homemade sauces, baked potatoes, fries and garlic bread. Enjoy a glass of wine from our exquisite menu or a cool beer – this is how dinner becomes a special, sociable experience.
There are 3 hat variations to choose from: "The classic hat", "The deluxe hat" or "The vegetarian hat". The respective setups can be found in the daily menu and evening menu of the Arlhof Hut in Altenmarkt.
In Summer – the perfect location to host your event
The Arlhof Hut in Altenmarkt in Pongau, Salzburger Land, offers an incomparably beautiful backdrop for your private event in summer. Whether it's a wedding, birthday or family celebration, the Arlhof Hut offers the ideal setting for any celebration with its unique atmosphere. Due to the quiet location on the outskirts of Altenmarkt, surrounded by beautiful meadows and forests and the good accessibility by car, you can enjoy a wonderful day undisturbed and stress-free! With its rustic charm and open spaces, the hut offers an excellent setting with a festive atmosphere. And for those who still haven't had enough, in the Arlhof Lounge you can celebrate and dance to your heart's content – so there's something for every guest. Of course, we arrange the day according to your wishes and offer you individual menu suggestions according to your ideas. We look forward to arranging your celebration according to your wishes and would be happy to welcome you for a visit!